Regular price
₱0
Sale price
₱1,375
Unit price
per
Sale
Sold out
❌ Not available in-store or for pickup.
✅ Delivery for Metro Manila in standard 2-4 business days
Know more about Direct from Supplier here.
Category: Liqueur
ABV: 40%
Origin: France
Distillery: Maison Cointreau
Size: 750ml
HOW TO ENJOY IN A COCKTAIL

Mimosa: 15ml Cointreau + 90ml your favourite champagne + 45ml fresh orange juice + garnish with an orange twist
The Clone: 30ml Cointreau + 60ml your choice of tequila + 15ml fresh lime juice + 90ml orange-flavoured sparkling water + garnish with lime twist
ABOUT THIS LIQUEUR
Excellence is cultivated through the constant quest for perfection. Today, this tradition is continued by Master Distiller of the Maison Cointreau, Carole Quinton. Balanced. Versatile. Aromatic. Inescapable. Experience Cointreau L'Unique.

TASTE NOTES
Sight: Cointreau is no stranger to the unexpected and its deep amber bottle conceals a visual surprise: a perfectly transparent liqueur. When mixed, the crystalline liqueur becomes opalescent, a physical testament to the high concentration of orange essence.
Nose: Cointreau is an aromatic feat and owes this impact to a complex blend of orange peel essences. Zesty, fresh, floral, sweet… With a spectrum of more than 40 olfactive notes, Cointreau is a captivating ode to orange on its own and an enhancer of other flavours when mixed.
Palate: Cointreau's flavour profile is a symphony of unexpected dualities: It has an instant freshness yet lingers on the palate, is a harmonious blend of nuanced notes yet remains intensely orange. In cocktails, Cointreau serves as a flavour amplifier, helping reveal the other ingredients while bringing balance, depth, and freshness to the mix.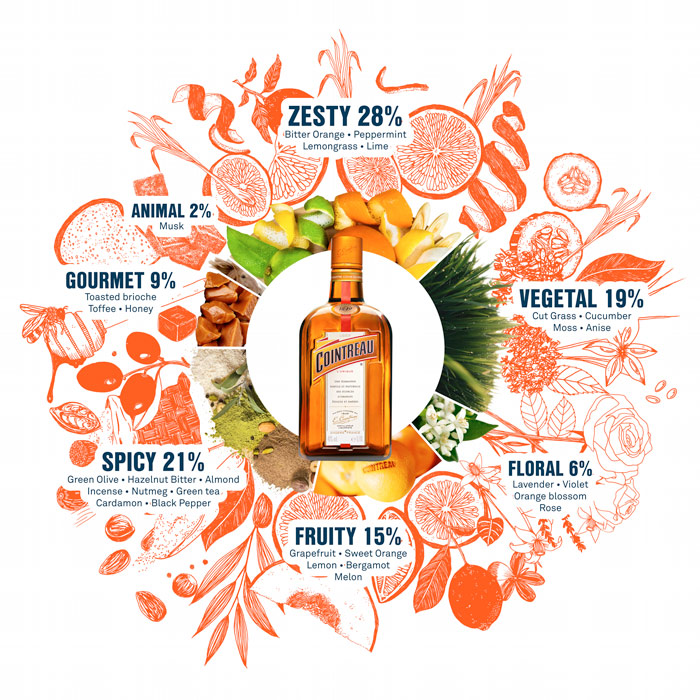 Share
View full details
About Cointreau
Every day since the House's creation, the same techniques have been passed down and repeated. From the selection of orange peels, chosen for the organoleptic qualities of their essences; to the harmonious blending of ingredients to achieve the ideal aromatic balance; to the grand finale, the distillation in 19 custom copper alembics just like those used by Édouard Cointreau over a century ago. Today, Master Distiller Carole Quinton is the guardian of Cointreau's rich savoir-faire.
More from Cointreau
Regular price

₱0

Sale price

₱1,375

Unit price

per
About Liqueur
First prepared by 13th century Italian monks as herbal medicines and elixirs, Liqueurs are distilled spirits that have been combined with flavoring agents. A range of herbs, spices, nuts, fruits and flowers can be used, and a sweetener such as sugar or corn syrup is often added. While typically rather sweet, some examples are herbaceous or tart and pair exceptionally well with desserts or act as a delightful addition to cocktails.